I passed 50.000 km in my car today!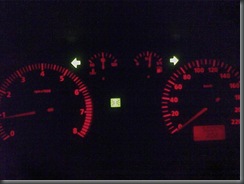 I have my SEAT Ibiza for just a few days over 6 years now, and I must say I'm quite happy with it. The only things that have broken down are just a fuse in the engine, the electric window mechanism and the turn signal lever (all fixed of course). It remains a very powerful car for its engine size (1400 cc, but 101 horsepower), and because it's relatively light, it is not rare for other drivers to eat my dust :). It is very comfortable, to the point I prefer sitting in there to sitting on a normal chair, and in the rare cases I traveled long distances, I can't say I was tired at the end (even though it "complained" that two or even four hours had passed and I should take a brake from driving). I'm of course very grateful for the air condition, as 47°C on the outside are really not tolerable without one! And of course it remains really fun to drive!
So, here's to another 50.000 km!